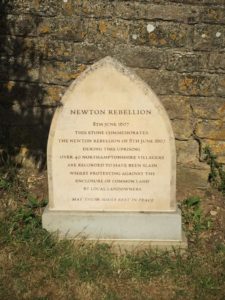 The Newton Rebellion – 8th June 1607
This fascinating piece of  history has obvious parallels with the present day as the people were protesting the enclosure of land by the landowners.
"In the early summer of 1607, a large group of a thousand men, women and children assembled at Newton, just outside Kettering, and began digging up hedges and filling in ditches, surrounding enclosures recently put in place by the local landowner, Thomas Tresham of Newton, a cousin of the much more famous Sir Thomas Tresham of Rushton.
The protesters were led by Captain Pouch, a tinker who carried a pouch on his belt which he said carried something that would protect them from all harm. He had told the protesters that he had authority from the King and the Lord of Heaven to throw down the enclosures, but that they should offer no violence.
The deputy-lieutenant of Northamptonshire, Sir Edward Montagu of Boughton, was charged by King James I to establish control. The local militia refused to come out, so Montagu had to rely on his own forces. A royal proclamation was twice read out, demanding the rioters disperse. When they did not, the forces of the gentry charged the crowd.
After initially putting up fierce resistance, the crowd fled as the mounted horsemen charged for the second time.
40-50 rioters were killed in the field and many more captured, some of whom were later to be executed and have their mutilated bodies displayed at Northampton, Oundle and other local towns. Captain Pouch was apprehended and executed. His pouch was found, and all that it contained was "onely a peece of greene cheese", according to the chronicles.
The events at Newton were the culmination of the Midlands Revolt, which had spread across Northamptonshire, Leicestershire and Warwickshire throughout May, focusing on the enclosure of common land and its conversion to sheep pasture. This was the last time the peasantry of England rose up against the gentry."
Further information